Avira System Speedup 1.2.1.8700, bisa membuat sehat komputer kita. Seperti sebelumnya, banyak vendor AV yang terjun juga didunia utilitas. Seperti Avira, yang juga mempunyai apliaksi utilitas.


Features :
Facilitate loading computer

System Cleanup module includes a complete set of tools to quickly and safely clean your computer from dust. To reclaim unused space with functions Junk Files Cleaner, Registry Cleaner and Smart Defragmenter. Activate the Privacy Cleaner to clean the data loaded in the daily web browsing.

Leaves no gifts from the past

This is your computer, and after you have the last word on what files can be available to others. File Encryption function blocks the current files from prying eyes, while the File Shredder and Disk Wiper do everything to the deleted items were beyond repair. Uninstaller can remove without residue applications take up space on your computer or might cause errors in the future.

Finds sources slowdown, freezes and crashes

All computers perform a variety of processes in the background. As you add new applications chaotic background activity increases, which leads to errors and freezes. System Optimizer, in conjunction with the Process Manager and Service Manager, directs whimsical process back on track. Startup Manager reduces download time by limiting the number of tasks performed when loading Windows.

Scrutinizes health PC

You do not need to make an appointment to Disk Doctor found to diagnose and fix hard drive errors. Disk Analyzer helps improve space utilization. Monitor proactively monitors the driver software that connects to a PC operating system, reducing the risk of the release of "iron" out of order.
System Requirements :
Operating Systems:
Windows 7 (32-bit or 64-bit))
Windows Vista (32-bit or 64-bit)
Processor:
300 MHz processor or higher
Memory:
Hard Disk:
Min. 12 MB available disk space
Screenshots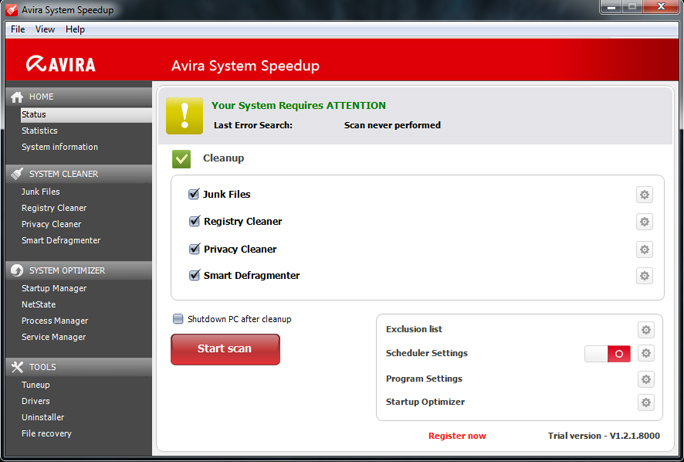 Download